Medical Coding refers to the identification of diagnoses, medical tests, procedures, and treatments in clinical papers. Afterward, the patient information from these records is converted into standardized codes that are used to charge both government and private payers to reimburse the physicians.
Medical Coding involves abstracting the medical information from the documentation, assigning the correct diagnosis and procedure codes, and enabling the creation of a claim to be submitted to the correct insurances companies.
Medical Coding Services CCMB Offers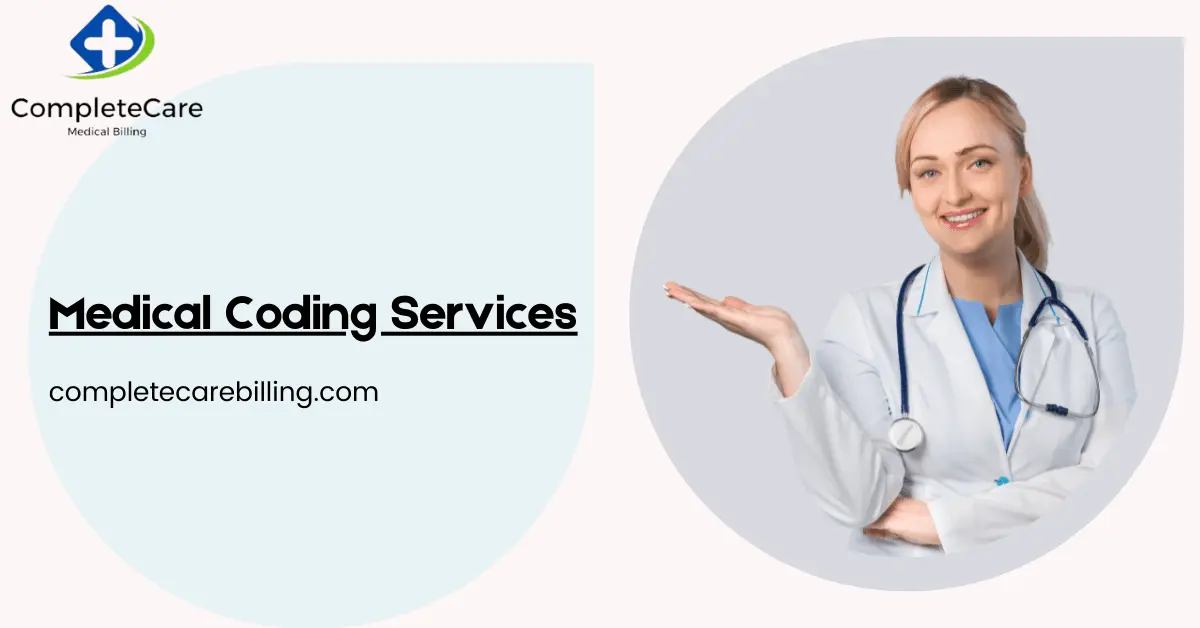 CompleteCare Billing provides medical coding services to physicians, medical offices and facilities of all sizes. Our medical coding team includes experts who are certified from AAPC and can handle medical coding of every size of practice, no matter how big or small it is.
We frequently increase our clients income by at least 10% while also streamlining, complying, and stress-free medical coding. Due to our focus on coding and creating accurate claims, our clean claim rate is more than 98%, resulting in the maximum reimbursement.
CompleteCare Billing LLC provides comprehensive medical billing and coding services to Clinics, urgent cares, hospitals, emergency rooms, and physicians of different specialties. As a medical billing company, we are known for our trustworthiness and quality work. Our clients are 99% satisfied by our quality medical coding and billing services.
What makes us Best Medical Coding and Billing Services Company
An accurate reimbursement depends on high-quality medical coding. Errors in medical coding can lead to denials, as well as unwarranted compliance issues, which can be even more costly for healthcare providers.
CompleteCare Billing employs AAPC (American Academy of Professional Coders) and AHIMA certified medical coders. Through certifications such as CPC (Certified Professional Coders) and CCS (Certified Coding Specialist), our team ensures the highest level of accuracy in medical coding. We make sure every claim is coded according to the latest and most updated medical coding guidelines.
We Offer the Following Medical Coding Services
ICD-10-PM, CPT, HCPCS coding, and ICD-10-PCS coding
Chart Audits and Code Reviews
HCC coding
Offshore coding audits
Payer specific coding requirements
Using clinical documentation, we perform Medical Coding following detailed instructions provided by our clients.
Why you should Outsource Medical Coding and Billing to CCMB
Here are some reasons why you should outsource medical billing and coding to CompleteCare Billing. Our revenue cycle management services include complete medical billing and coding services. We specialize in all aspects of medical billing and coding. Here are some of the benefits of outsourcing medical coding and billing to CompleteCare Billing, LLC
HIPAA compliant (Complete Data and Document Security)
Affordable Pricing
Benefit from zero billing errors
Get fewer denials with error-free claims
10-30% increment in the monthly collection
Easily Scalable
Save up to 45% on operating costs per employee.
100+ highly skilled support personnel are available.
Reports are available in real-time.
Access to Certified Experts.
Reduce AR backlogs with an improved first-pass rate
Timely filed claims.
Strict quality control and information security policies are in place.
Reduce turnaround time.
Provide correct coding across specialties consistently.
100% transparency with data and processing.
Secure information and data flow between Complete Care Billing and our partners made possible by dependable networking software and infrastructure.
Single Point of Contact
24/7 Availability
As one of the leading providers of medical coding and billing services, we pride ourselves on providing the highest quality services in a speedy manner. To accomplish this, we make use of the best and the latest medical billing and coding tools and technologies.
As one of the major differences in our company, we have in-depth knowledge and hands-on experience regarding Medicare, HIPAA, and Medicaid regulations. We understand procedural and diagnostic coding, as well as billing and coding auditing.
We simplify billing, eliminate administrative burdens, increase revenue for your practice, and modernize every part of it. The benefits of our commitment to effective billing can be realized in the shape of increased income and profit margins for your practice.
Complete Care Billing, LLC understands your practice needs and provides you with the best ROI through identifying critical areas of the billing and revenue cycle in order to eliminate revenue leaks once and for all, allowing you to concentrate on providing patients with quality care.
What is included in Medical Coding which is submitted to Insurance Companies?
Standardized codes provide the following information to payers:
Patient diagnosis in the form of ICDs
Performed services in the form of CPTs
The necessity of medical treatment (if required)
Supplies provided to the patient
Contact Us For Medical Coding Services
As a medical coding and billing company, we have served numerous types of medical facilities for the past many years. Our medical billing and coding services can be customized in accordance with the specific needs of your healthcare facility. Get in touch for consultation and pricing of our medical coding services.